Making Smart Choices
There's a part of me that still can't quite get over the fact that I'm back to riding just about every day. It's amazing.
Today was sunny and around 50 degrees, but windy, so it was still a little chilly out. Lucky for me, I got done with a work appointment earlier than expected, and got to take my sweet time at the barn. Not having to rush is a wonderful thing!
Dino was feeling a little "meh" today, I think due to the combined factors of only being back in work about a week, the change of seasons, and having been off his meds for a week since my vet ran out, and didn't tell me, and so they didn't get shipped when they should have... ANYWAY. He wasn't feeling super duper tip-top today, but we still had a pretty good ride.
I didn't do any really serious flatwork, just worked on getting him forward and moving off my legs both front-to-back and sideways. This took some encouragement from Mr. Sticky, and after a nice brisk canter Dino was feeling pretty loose and relaxed. He stretched. All was well with the world.
So then we moved on to our crossrail - three strides - trot poles exercise, and ponyman was a CHAMP. There was no cantering through the trot poles, ever, AND I managed to make smart choices and NOT GO TO THE JUMP IF OUR CANTER WAS BAD. High five, self.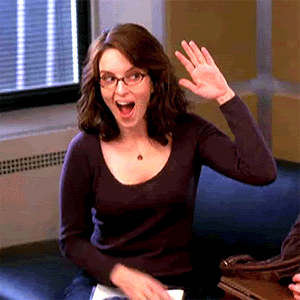 Oh Tina Fey, I love you.
Then I decided to be really badass and turn things up a notch. We did the canter-crossrail-trot pole thing, picked up the canter again at the end of the arena, and then came down and jumped a 2'3 vertical on the diagonal. Twice. Homeboy totally jumped it like it was at least 3' and rocketed my butt back towards his tail. But I saw my distance, supported it, and didn't freak out and ride to a stop. For not having jumped a real big-kid jump since, oh, December? I think that's pretty good.
I have this new idea, that I'm not going to set Dino up for failure over fences anymore. I decided that I'm not going to aim us at jumps unless we have a good canter and I'm really set on getting to the other side.
So far it's working out for us.